On Friday 6 June, the University welcomed the former Italian Prime Minister, Dr Enrico Letta, on a visit to the Department of Politics and International Studies, and the Cambridge Graphene Centre.
Dr Letta had been invited to give the Alcuin Lecture 2014, an annual event funded by Lord Brittan to encourage discussion of the relationship between Britain and Europe. Before a large audience of students, academics and members of the public, Dr Letta argued that the possibility of a 'Brexit' (the UK leaving the EU) needed now to be taken very seriously both here and on the continent. His catalogue of reasons why such an outcome would be disastrous for both the UK and the EU as a whole provoked a lively discussion, which continued during the reception following the lecture. The evening concluded with a dinner hosted by Lord and Lady Eatwell at Queen's College, where guests included staff and students from POLIS, History, the Department of Italian and the Faculty of Law.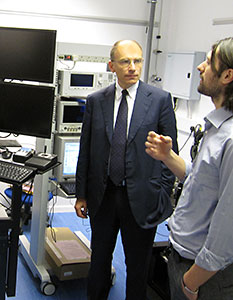 On Saturday 7 June, Dr Letta was given a tour of the Cambridge Graphene Centre by its Director, Professor Andrea Ferrari of Pembroke College. Here he discussed exciting new developments in science and technology with Professor Ferrari's team; comprised of colleagues from Materials Science, Physics, Engineering, and partner companies such as Nokia and Toshiba. During his tour, Dr Letta was met by a number of Italian students, post docs and staff members.