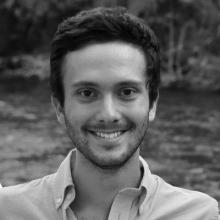 The Department of POLIS is delighted to announce that the Joffé Award for 2019-2020 has been presented to Timothy Doner, for his dissertation entitled 'Iran, Kazakhstan, and Great Power Politics in Central Asia, 2013-2019'.
The Joffé Award is presented each year to the student writing the best MPhil dissertation on the international relations and/or politics of the Middle East and North Africa. It is named for Professor George Joffé who, for many years, was the backbone of teaching on North Africa and the Middle East in the Centre for International Studies, and later in POLIS. George retired at the end of the 2016/17 academical year and the Department has created this prize as a tribute to his intellectual legacy.
Tim had the following to say on his work and the award:
"My thesis examined relations between Iran and Kazakhstan - countries that are both regional heavyweights and, since 2013, key participants in China's Belt and Road Initiative. Using trade data, public statements and geopolitical analysis, I sought to fill a gap in the existing literature, highlight the new ideological and infrastructural linkages between the two, and speculate on how they may affect Great Power competition in the region going forwards. 
I am delighted to have received the Joffe Prize and hope my work honors the professor's towering intellectual legacy. It is a true privilege to be recognized by the committee and I am thrilled to draw more attention to this understudied but fascinating area of geopolitics. I would like to thank my superb teachers and mentors in the Department of Politics, but most importantly my supervisor Dan Larsen, whose endless patience and support helped me transform this project from a kernel of an idea into a full-fledged dissertation."
Many congratulations to Tim, and to all of his MPhil cohort on their hard work this year.