During the month of December, POLIS staff, students and visitors to the Alison Richard Building collected donations in kind for Jimmy's Night Shelter. 
Open 24 hours a day, 365 days a year, Jimmy's Night Shelter is the only emergency accommodation provider in Cambridge, offering a warm, welcoming environment to 20 men and women (and two dogs) who would otherwise be forced to sleep rough or in inappropriate or inadequate conditions.
You can read more about the work of Jimmy's here - http://jimmyscambridge.net/ 
The collection, organised by Rebecca Burtenshaw (Undergraduate Secretary) called for all sorts of practical items (sleeping bags, clothes) as well as tinned food and toiletries, and by Monday 22nd December there were over 550 separate items ready to be taken over to Jimmy's. This included 39 hats and scarves, 27 pairs of gloves, 80 cans of food and 30 packets of soup. 
We would like to say a huge thank you to everyone who donated items and made the collection such a success.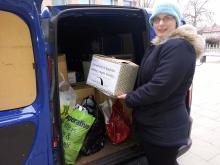 And a special thank you to Rebecca, for organising the collection and to Jamie, for helping to store and deliver the donations.