Reordering the World: Essays on Liberalism and Empire
Duncan Bell
Princeton University Press, May 2016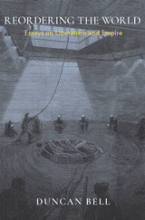 Reordering the World is a penetrating account of the complexity and contradictions found in liberal visions of empire. Focusing mainly on nineteenth-century Britain—at the time the largest empire in history and a key incubator of liberal political thought—Duncan Bell sheds new light on some of the most important themes in modern imperial ideology.
The book ranges widely across Victorian intellectual life and beyond. The opening essays explore the nature of liberalism, varieties of imperial ideology, the uses and abuses of ancient history, the imaginative functions of the monarchy, and fantasies of Anglo-Saxon global domination. They are followed by illuminating studies of prominent thinkers, including J. A. Hobson, L. T. Hobhouse, John Stuart Mill, Henry Sidgwick, Herbert Spencer, and J. R. Seeley. While insisting that liberal attitudes to empire were multiple and varied, Bell emphasizes the liberal fascination with settler colonialism. It was in the settler empire that many liberal imperialists found the place of their political dreams.
---
Can the Welfare State Survive?
Andrew Gamble
Published by Wiley, March 2016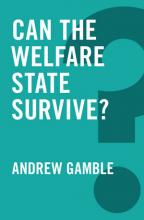 After the most serious economic crash since the 1930s and the slowest recovery on record, austerity rules. Spending on the welfare state did not cause the crisis, but deep cuts in welfare budgets has become the default policy response. The welfare state is seen as a burden on wealth creation which can no longer be afforded in an ever more competitive global economy. There are calls for it to be dismantled altogether.
In this incisive book, leading political economist Andrew Gamble explains why western societies still need generous inclusive welfare states for all their citizens, and are rich enough to provide them. Welfare states can survive, he argues, but only if there is the political will to reform them and to fund them.
---
The European Union: A Citizen's Guide
Chris Bickerton
Published by Penguin Books Ltd, May 2016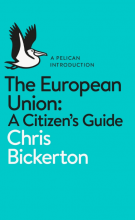 The essential Pelican introduction to the European Union - its history, its politics, and its role today
For most of us today, 'Europe' refers to the European Union. At the centre of a seemingly never-ending crisis, the EU remains a black box, closed to public understanding. Is Europe ruled by Germany or by European bureaucrats? Does a single European economy exist after all these years of economic integration? And should the EU have been awarded the Nobel peace prize in 2012? Critics tell us the EU undermines democracy. Are they right?
In this provocative volume, political scientist Chris Bickerton provides an answer to all these key questions and more at a time when understanding what the EU is and what it does is more important than ever before.
---
Britain's Europe: A Thousand Years of Conflict and Cooperation
Brendan Simms
Published by Penguin Books Ltd, April 2016
 
Britain has always had a tangled, complex, paradoxical role in Europe's history. It has invaded and been invaded, changed sides, stood aloof, acted with both brazen cynicism and the cloudiest idealism. Every century troops from the British isles have marched across the mainland in pursuit of a great complex of different goals, foremost among them the intertwined defence of parliamentary liberty in Britain and the 'Liberties of Europe'. Dynastically Britain has been closely linked to countries as varied as Spain, the Netherlands, Germany and France.
In this bracing and highly enjoyable book, Brendan Simms describes the highlights and low-points in the Euro-British encounter, from the Dark Ages to the present. The critical importance of understanding this history is shown in the final chapter, which dramatizes the issues around British relations with the European Union and the how, far from being a narrowly legalistic or financial concern, a referendum on continued membership raises all kinds of fascinating questions about both the United Kingdom's own horizons and what it can offer to the Union's vision of itself.
Britain's Europe is a vital intervention at a moment of both great danger and great opportunity.
---
The Politics of Islamic Law: Local Elites, Colonial Authority, and the Making of the Muslim State
Iza R Hussin
Published by The University of Chicago Press, March 2016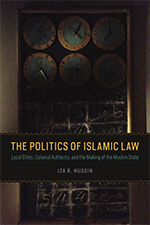 In The Politics of Islamic Law, Iza Hussin compares India, Malaya, and Egypt during the British colonial period in order to trace the making and transformation of the contemporary category of 'Islamic law.' She demonstrates that not only is Islamic law not the shari'ah, its present institutional forms, substantive content, symbolic vocabulary, and relationship to state and society—in short, its politics—are built upon foundations laid during the colonial encounter.
           
Drawing on extensive archival work in English, Arabic, and Malay—from court records to colonial and local papers to private letters and visual material—Hussin offers a view of politics in the colonial period as an iterative series of negotiations between local and colonial powers in multiple locations. She shows how this resulted in a paradox, centralizing Islamic law at the same time that it limited its reach to family and ritual matters, and produced a transformation in the Muslim state, providing the frame within which Islam is articulated today, setting the agenda for ongoing legislation and policy, and defining the limits of change. Combining a genealogy of law with a political analysis of its institutional dynamics, this book offers an up-close look at the ways in which global transformations are realized at the local level. 
---
Biofuels, Food Security, and Developing Economies
Nazia Mintz-Habib
Published by Routledge, January 2016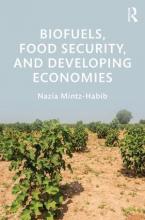 The last decade has witnessed major crises in both food and energy security across the world. One response to the challenges of climate change and energy supply has been the development of crops to be used for biofuels. But, as this book shows, this can divert agricultural land from food production to energy crops, thus affecting food security, particularly in less developed countries.
The author analyses the extent to which biofuels feedstocks fit within the national food security strategy, agro-export orientation, and rural development plans and policies of developing economies. Two case studies, from Tanzania in East Africa and Borneo in Malaysia, are considered in detail, using the non-edible crop of jatropha as an example of how compromises can be reached to balance food and energy goals as well as export markets. The author develops a novel integrated approach, the Institutional Feasibility Study, as the basis of her analysis.
She addresses key issues such as: how do global initiatives for green growth, energy security and sustainable development incorporate biofuels industry development? Does global biofuels trade present meaningful foreign and local investment opportunities for developing countries? To what extent does biofuels feedstock production help with poverty reduction and agricultural sector modernization? What role do the EU and the US commitments to biofuels blending targets play in the rapid industry development in developing countries? How does the biofuels industry fit within existing formal and informal institutional frameworks? Who are the winners and losers in the biofuels global value chain?