As part of our alumni outreach programme, we ask one of our POLIS alumni per term for their memories of Cambridge, as well as an update on what they are doing now. Our alumnus for Easter 2016 is Justin Holt...
NAME: Colonel (Ret'd) Justin Holt MBE, Royal Marines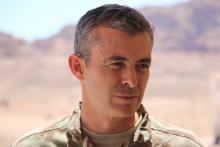 Degree Obtained: MPhil International Relations, 2011
College: St John's
Current Role: Currently resettling into civilian life
"The opportunity to go to Cambridge for a year was as unexpected as it was welcomed. I had been operationally active in the Royal Marines for over two decades, deploying on a number of occasions to Northern Ireland, Iraq and Afghanistan. More recently in 2009, I witnessed the inauguration of President Obama on a bitterly cold day in Washington DC where I was serving as a UK liaison officer in the US State Department. I had agreed to go there at short notice after a challenging deployment to Helmand Province in 2008. My role in Washington was to help develop inter-agency Counter Insurgency (COIN) doctrine and then teach it to civilian staff from across the US Government who were being sent to work in Afghanistan. 
I had some experience of being a 'civilian' as I had deployed to Musa Qalah in Helmand Province in 2008 as a Stabilisation Advisor to the District Governor. The move from being a practitioner to a policy maker was a natural one in terms of career progression, however it was not any easier. It requires a completely different skill set; policy-making could be every bit as frustrating as dealing with a former Taliban Commander who was now a District Governor.
On returning from Washington, my role was to advise UK Coroners and families of British service personnel killed in Afghanistan on the intricacies of combat operations as well as helping explain the evidence provided to the court. This was as difficult a task as I'd ever done and a good example of being at the other end of the policy telescope. On one end, I had a view from the higher Political-Military level in Washington DC, at the other end were the families coming to terms with the human cost of these same policy decisions.  
Fast forward to 2010 and the crucial telephone call regarding the MPhil in International Relations at the University of Cambridge. At the time I had been dealing with difficult inquests where families were very angry. This was atypical; most families were stoic in their loss but occasionally grieving families just needed someone to blame. About this time I was realising I had become so emotionally detached from the inquest process that I couldn't always remember the names of the deceased; they had become a file number rather than a name. It was time to move on, so I grasped the opportunity to go to Cambridge, a tactical retreat. 
Military colleagues have often asked me "How was it?", to which I have always answered honestly "It was the best year of my military career!" To have time to think, reflect and discuss ideas outside of the very rigid hierarchy of the military was extremely refreshing. On meeting a senior general who had also undertaken the MPhil, he warned me that "it will make you difficult to work with when you go back to the military, as you will question everything and be unsatisfied with the answers."
One of the electives I decided to study was Middle Eastern and North African Politics under Professor George Joffé. Despite having spent most of my professional military career in the Middle East, I was alarmed at how little I actually knew about it. I absorbed all I could and in the Lent Term, the revolution in Tunisia started to spread. By the time of the exams, President Hosni Mubarak had fallen and Libya was looking precarious. To be in the company of such esteemed academics while witnessing these historical events unfold was a real privilege.
More by luck than design, I managed to return to the military as a desk officer in the MOD responsible for security policy across the Maghreb, from Libya to Mauritania. This brought me into daily contact with my opposite numbers in the Foreign and Commonwealth Office and the Department for International Development. For two years we collectively worked on shaping and resourcing the UK's response to the 'Arab Spring'. Libya naturally absorbed most of our energy and attention. Towards the end of that period, I had the opportunity to deploy to Tripoli as the Chief of Staff of a Defence Training and Advisory Team. I was effectively implementing the policy that we had shaped in Whitehall, another switch from one end of the telescope to the other.
Looking back now over that period, and a more recent deployment to the Middle East combating the Islamic State in Syria, I am convinced of the need for policy makers to spend time in the field, and field practitioners need to spend time in policy making roles. In terms of professional development, my time at Cambridge studying for the MPhil was invaluable as it gave me a depth of understanding and appreciation that was hitherto missing. Alongside this, I would also commend sparing a thought for the families who pay the human toll for our national policy decisions. There is always a cost, and rarely are policy-makers confronted by it."