Spotlight: Robyn Curnow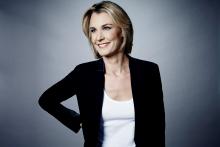 (Magdelene, 2000)
"I had a purple bike. The wicker basket attached to the handlebars was big, but never seemed big enough. My basket and its contents would gently bob up and down as I peddled from Magdalene, along cobbled streets to the Centre for International Relations for lectures. Often I would make a quick stop at Fitzbillies for a Chelsea bun and tea before dashing into a tutorial or a lecture.
I was considered a 'mature' student but I was only in my mid-twenties. I saw my time in Cambridge as a mid-career bridge between where I was from and where I wanted to go. I had already been a correspondent for a few years back home in South Africa for the national broadcaster SABC. It was an incredible experience – reporting on Nelson Mandela, his government and all the changes that our young democracy was going through. South Africa in those years was trying to find its way as much as I was in Cambridge. South Africa's re-emergence also had implications for the rest of the continent, and so I focused my thesis on Africa's wars and South Africa's peacekeeping capabilities. It's still in my library here at home; proudly bound but never really re-read.
I loved the theatrical flourishes of Cambridge; Marc Weller swishing into my first International Law lecture in his black academic gown, the gong and Latin prayers before candlelit dinner at Magdalene and the majesty of matriculation.  
As a young journalist I soaked up the courses that connected me with the world, as it was then. I learnt about exit strategies and the importance of air power in military studies and wrote about Just War. We analysed George Bush Sr.'s New World Order, the birth of the European Union and I tried very hard to grasp much of Political Theory, with varying success. We analysed terrorism, debated Francis Fukuyama's 'End of History' and looked at the political fallout of the American Black Hawks going down in Somalia in 1992, before it was a movie. Everything I studied during my M.Phil. year in 2000-2001 gave me a much-needed clarity to the way the world worked. Then everything changed. Clarity was lost. I watched the September 11 attacks unfold from Cambridge, in the final week before I went down.
Suddenly I worried much of the I.R. course was redundant because the geopolitics had changed so irrevocably, however I quickly realized it wasn't. My master's degree was a bridge not because I started reporting from CNN in London six months after I left Cambridge but because I've spent the years since then reporting and decoding the post-Sept 11 world.
So much of what I deal with each day on my CNN show is based on what I learnt at the Centre for International Relations, despite all the sherry I drank in the Magdalene middle common room.
Just in the past year or so, I've juggled live breaking news on Brexit, the European migrant crisis and its links to Africa's instability, incessant and unrelenting terror attacks and the rise and fall of ISIS. The American election and Donald Trump continue to dominate as the rest of the world tries to understand what Trump's America means for them. It's a cliché but often folks say that journalism gives you a front row seat to history. Cambridge gave me the ability to watch and report on the first draft of our recent history unfold with a deep sense of knowing that world has seen much of this before, endured worse and then tried to make sense of it all.
I'll leave it up to the future generations of Cambridge International Relations graduates to figure out what the early 21st century means in the broader arc of history. Shifting alliances, the future of NATO, the ambitions of Russia, the retreat of America, the rise of China and the lost opportunities in Africa will all define the decades ahead. Also, climate change, huge gaps between rich and poor and push/pull power of social media continue to accelerate change.
I often yearn for the simplicity of my days riding a purple bike on a bridge over the river Cam. My daughters think my black academic gown, which hangs in the cupboard in a spare bedroom, is a 'Harry Potter cloak' and some of my colleagues at CNN headquarters in Atlanta think that 'Cambridge' is a town in Massachusetts. That's ok. I know how much just one year studying at Cambridge continues to sustain me in these complex times."
Robyn is a CNN anchor and host of International Desk with Robyn Curnow, which airs weekdays at 10am ET on CNN International.