Submitted by A. Jondorf on Tue, 29/09/2020 - 10:18
---
Online event for this year's prizewinners
On 19th September 2020, eight prize winners from this year's R. A. Butler Prize essay competition attended a virtual prize reception. The attendees included the winner Lydia Allenby (Gosforth Academy) and the runner up Louis Danker (City of London School). The event was hosted by Dr Glen Rangwala, lecturer in politics, and Nicholas Devlin, PhD candidate at the Department of Politics and International Studies.
The prize winners each presented the arguments of their essays, followed by a roundtable discussion of the ideas raised. It was a fascinating discussion amongst a remarkable group of young people.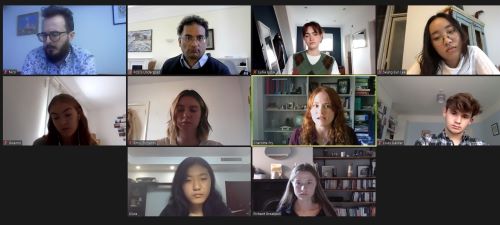 Thanks very much to all those who participated:
Lydia Allenby (Gosforth Academy, Newcastle upon Tyne); Louis Danker (City of London School, London); Ruby Breakwell (King Edward VI Camp Hill School for Girls, Birmingham); Zhuo Chen (Jinan Foreign Language School International Center, Jinan, China); Charlotte Fry (Tiffin School, Kingston upon Thames); Seung Eun Lee (Daewon Foreign Language High School, Seoul, South Korea); Emily Richards (King Henry VIII Comprehensive School, Abergavenny); Gwenno Robinson (Ysgol Gyfun Gwyr, Swansea).