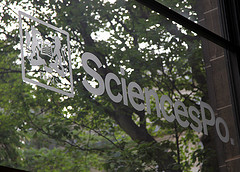 Sciences Po and the Department of Politics and International Studies (POLIS) at the University of Cambridge set up an academic exchange programme in 2014. From 1st January 2018 this became a University-wide programme. 
The School of the Humanities and Social Sciences is leading the University's collaboration with Sciences Po to develop research links in areas including Politics, History and Public Policy. The current framework, signed in November, will run from 2017-2020 and will support a range of workshops, symposia, exchanges and collaborative projects.
Our collaboration will commence with a public conference on 'The Future of Europe' in the Easter Term - further details will follow soon.
Further collaboration in the publication of ERIS (European Review of International Studies) is progressing well, co-edited by Prof Christopher Hill (POLIS, Cambridge) and Prof Christian Lequesne (Sciences Po, Paris). An interview with Prof Christian Lequesne can be found on the Sciences Po website.
Later this term, we will launch our first call for proposals, seeking to fund activities which will build lasting links between researchers in Cambridge institutions and Sciences Po, and will develop research groupings to investigate key areas of public policy. Around £15k per annum will be available in responsive mode. Activities might include:
(i) Exchange visits for students, researchers and visiting Professors
(ii) Collaborative workshops or seminars in either venue
(iii) RA support for specific projects
(iv) Travel grants for access to facilities in either Sciences Po or Cambridge
A workshop will be held in May to provide more detailed guidance on the collaboration with Sciences Po and the activities to be supported.
Further details can be obtained either from the School Office via grantsahss@admin.cam.ac.uk or from the Cambridge CAMPO director, Dr Chris Bickerton (cb799@cam.ac.uk).