How Democracy Ends
David Runciman
Profile Books, 2018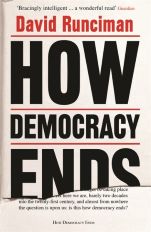 Democracy has died hundreds of times, all over the world. We think we know what that looks like: chaos descends and the military arrives to restore order, until the people can be trusted to look after their own affairs again. However, there is a danger that this picture is out of date.
Until very recently, most citizens of Western democracies would have imagined that the end was a long way off, and very few would have thought it might be happening before their eyes as Trump, Brexit and paranoid populism have become a reality.
David Runciman, one of the UK's leading professors of politics, answers all this and more as he surveys the political landscape of the West, helping us to spot the new signs of a collapsing democracy and advising us on what could come next.
Governing England: English Identity and Institutions in a Changing United Kingdom
Edited by Michael Kenny, Iain Mclean and Akash Paun
Oxford University Press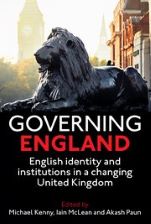 England is ruled directly from Westminster by institutions and parties that are both English and British. The non-recognition of England reflects a longstanding assumption of 'unionist statecraft' that to draw a distinction between what is English and what is British risks destabilising the union state. The book examines evidence that this conflation of England and Britain is growing harder to sustain, in light of increasing political divergence between the nations of the UK and the awakening of English national identity. These trends were reflected in the 2016 vote to leave the European Union, driven predominantly by English voters (outside London). Brexit was motivated in part by a desire to restore the primacy of the Westminster Parliament, but there are countervailing pressures for England to gain its own representative institutions, and for devolution to England's cities and regions.
The book presents competing interpretations of the state of English nationhood, examining the views that little of significance has changed, that Englishness has been captured by populist nationalism, and that a more progressive, inclusive Englishness is struggling to emerge. We conclude that England's national consciousness remains fragmented due to deep cleavages in its political culture, and the absence of a reflective national conversation about England's identity and relationship with the rest of the UK and the wider world. Brexit was a (largely) English revolt, tapping into unease about England's place within two intersecting Unions (British and European), but it is easier to identify what the nation spoke against than what it voted for.
Shadows of Empire: the anglosphere in British Politics
Michael Kenny, Nicholas Pearce
Polity Press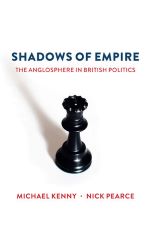 The idea of an alliance between Britain and its old Commonwealth colonies has recently made a remarkable comeback in the context of Brexit. Based on belief in a special bond between the English-speaking peoples of the UK, the USA, Canada, Australia and New Zealand, it has been dubbed the 'Anglosphere' by supporters and 'Empire 2.0' by critics. 
In this book, leading commentators Michael Kenny and Nick Pearce trace the historical origins of this idea back to the shadow cast by the British Empire in the late Victorian era. They show how leading British political figures, from Churchill to Thatcher, consistently reworked it and how it was revived by a group of right-wing politicians, historians and pamphleteers to support the case for Brexit. They argue that, while the contemporary idea of the Anglosphere as an alternative to European Union membership is seriously flawed, it nonetheless represents an enduring account of Britain's role in the world that runs through the heart of political life over the last century.