Institutional Memory as Storytelling
 
By Dennis Christian Grube, December 2020
Part of the Cambridge Elements: Public and Nonprofit Administration series. How do bureaucracies remember? The conventional view is that institutional memory is static and singular, the sum of recorded files and learned procedures. There is a growing body of scholarship that suggests contemporary bureaucracies are failing at this core task. This Element argues that this diagnosis misses that memories are essentially dynamic stories.
Lawmaking under Pressure: International Humanitarian Law and Internal Armed Conflict

By Giovanni Mantilla, December 2020
In Lawmaking under Pressure, Giovanni Mantilla analyzes the origins and development of the international humanitarian treaty rules that now exist to regulate internal armed conflict. Until well into the twentieth century, states allowed atrocious violence as an acceptable product of internal conflict. 
Dreamworlds of Race: Empire and the Utopian Destiny of Anglo-America

By Duncan Bell, December 2020
How transatlantic thinkers in the late nineteenth and early twentieth centuries promoted the unification of Britain and the United States. 
Markets, State and People: Economics for Public Policy
Diane Coyle
Princeton University Press, January 2020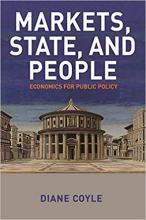 While economic research emphasizes the importance of governmental institutions for growth and progress, conventional public policy textbooks tend to focus on macroeconomic policies and on tax-and-spend decisions. Markets, State, and People stresses the basics of welfare economics and the interplay between individual and collective choices. It fills a gap by showing how economic theory relates to current policy questions, with a look at incentives, institutions, and efficiency. How should resources in society be allocated for the most economically efficient outcomes, and how does this sit with society's sense of fairness?
Diane Coyle illustrates the ways economic ideas are the product of their historical context, and how events in turn shape economic thought. She includes many real-world examples of policies, both good and bad. Readers will learn that there are no panaceas for policy problems, but there is a practical set of theories and empirical findings that can help policymakers navigate dilemmas and trade-offs. The decisions faced by officials or politicians are never easy, but economic insights can clarify the choices to be made and the evidence that informs those choices. Coyle covers issues such as digital markets and competition policy, environmental policy, regulatory assessments, public-private partnerships, nudge policies, universal basic income, and much more.
Outsourcing Empire: How Company-States Made the Modern World
Jason Sharman
Princeton University Press, 2020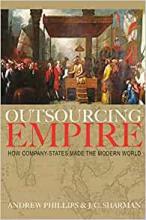 Andrew Phillips and J. C. Sharman explain the rise and fall of company-states, why some succeeded while others failed, and their role as vanguards of capitalism and imperialism. In dealing with alien civilizations to the East and West, Europeans relied primarily on company-states to mediate geographic and cultural distances in trade and diplomacy. Emerging as improvised solutions to bridge the gap between European rulers' expansive geopolitical ambitions and their scarce means, company-states succeeded best where they could balance the twin imperatives of power and profit. Yet as European states strengthened from the late eighteenth century onward, and a sense of separate public and private spheres grew, the company-states lost their usefulness and legitimacy.
What sets good and bad leaders apart in the coronavirus era
Lawrence Hamilton
Crises bring out the best and worst of politicians and populations. Folly, fear and fortitude are on display everywhere. In the main, democracies have fared better than non-democracies in handling the coronavirus pandemic. But the record is very varied indeed. What explains this? What can be done about it?