Foreign Policy in the Twenty-First Century
Christopher Hill
Published by Palgrave Macmillan, November 2015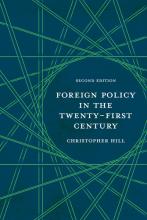 In the years since 9/11, followed by the wars in Iraq and Afghanistan, public attention the world over has been on foreign policy. From the United States to Yemen, from China to Venezuela, the quality of the decisions taken by politicians and diplomats has been under the closest scrutiny. What is more, with the increased personal mobility created by globalization, many individuals and groups now focus as much on international events as on affairs within their own state. Diasporas, company managers, humanitarian volunteers and other non-state actors are aware of the necessity for effective diplomacy to secure the outcomes they hope for. 
This revised and retitled new edition of the author's acclaimed The Changing Politics of Foreign Policy provides the concepts and analysis needed to make sense of contemporary developments in this key site of political action. It provides a clear and engaging synthesis of what foreign policy means in the twenty-first century and shows how it can vary according to regime, level of development and geopolitical position. Stressing the interplay between context and shared dilemmas, it examines how actors – including the many non- and sub-state entities which have developed international strategies – engage, and attempt to manage their differences, within a network of complex multilateral relationships. 
Written by a leading scholar of international renown, this new edition has been updated throughout, with particular attention given to contemporary issues such as soft power, transnational security challenges and the role of regional actors such as the European Union. 
Security: Dialogue Across Disciplines
edited by Philippe Bourbeau
Published by Cambridge University Press, November 2015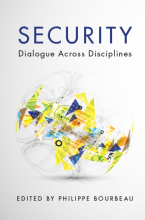 Security is a vital subject of study in the twenty-first century and a central theme in many social science disciplines. This volume provides a comparative analysis of the ways in which the concept of security is theorized and studied across different disciplines. The book has two objectives: first, to explore the growing diversity of theories, paradigms, and methods developed to study security; and, second, to initiate a multidisciplinary dialogue about the ontological, epistemological, paradigmatic, and normative aspects of security studies in social sciences. Readers across nine fields are invited to reflect on their conceptualizations of security and to consider how an interdisciplinary dialogue can stimulate and enrich the understanding of security in our contemporary world. Analytically sharp yet easy to read, this is a cutting-edge volume exploring what security is and what it means in today's world.
The book:
Proposes an innovative and multidisciplinary approach to security
Offers a rich and unparalleled understanding of how security is understood and studied within the social sciences with contributions from leading academics in the respective fields
Provides a coherent and structured multidisciplinary dialogue on security
---
Reassuring the Reluctant Warriors: U.S. Civil-Military Relations and Multilateral Intervention
by Stefano Recchia
Published by Cornell University Press, September 2015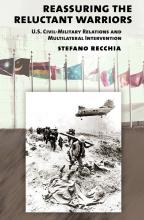 Why did American leaders work hard to secure multilateral approval from the United Nations or NATO for military interventions in Haiti, Bosnia and Kosovo, while making only limited efforts to gain such approval for the 2003 Iraq War? In Reassuring the Reluctant Warriors, Stefano Recchia draws on declassified documents and about one hundred interviews with civilian and military leaders to illuminate little-known aspects of U.S. decision making in the run up to those interventions. American leaders, he argues, seek UN or NATO approval to facilitate sustained military and financial burden sharing and ensure domestic support. However, the most assertive, hawkish and influential civilian leaders in Washington tend to downplay the costs of intervention, and when confronted with hesitant international partners they often want to bypass multilateral bodies. In these circumstances, America's senior generals and admirals- as reluctant warriors who worry about Vietnam-style quagmires- can play an important restraining role, steering US policy towards multilateralism.
---
The Killing Consensus:  Police, Organized Crime and the Regulation of Life and Death in Urban Brazil
by Graham Denyer Willis
Published University of California Press May 2015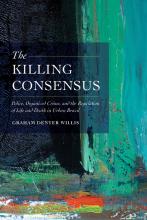 We hold many assumptions about police work — that it be solely the responsibility of the state, or that only police officers be given the right to kill in the name of public safety or self defence. But in The Killing Consensus, Graham Denyer Willis shows how in Sao Paulo, Brazil, killing and the arbitration of "normal" killing in the name of social order is actually conducted by two groups— the police and organized crime — both operating by parallel logics of murder. Based on three years of ethnographic fieldwork, Denyer Willis traces how homicide detectives routinely categorize two types of killing: the first resulting from "resistance" to police arrest -often broadly defined-, the second at the hands of a crime 'family' known as the Primeiro Comando da Capital (PCC). Death at the hands of police happens regularly, while the PCC's centralized control and strict moral code among criminals has also routinised killing, ironically making the city feel safer for most residents (the overall number of homicides is down by as much as 80% in some places). Via the arbitrations, street level experiences and sense making of death by homicide detectives, this book examines how a regulation of killing has emerged in Sao Paulo among these two groups.  In a fractured urban security environment like that of many other cities in the global south, where killing mirrors patterns of inequitable urbanization and historical exclusion on class, gender and racial lines, Denyer Willis' grounded research finds that the city's cyclical periods of relative peace and dizzying violence can best be understood through an unspoken but mutually observed consensus on the right to kill. This consensus hinges on common notions and street level practices of who can die, where, how, and by whom, raising acute questions about whether sovereign power can be exercised by consensus. (From publisher's website.)
---
Waging War, Planning Peace: U.S Noncombat Operations and Major Wars
by Aaron Rapport
Published Cornell University Press April 2015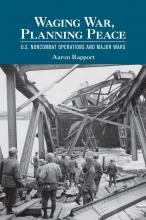 As the U.S. experience in Iraq following the 2003 invasion made abundantly clear, failure to properly plan for risks associated with postconflict stabilization and reconstruction can have a devastating impact on the overall success of a military mission. In Waging War, Planning Peace, Aaron Rapport investigates how U.S. presidents and their senior advisers have managed vital noncombat activities while the nation is in the midst of fighting or preparing to fight major wars. He argues that research from psychology—specifically, construal level theory—can help explain how individuals reason about the costs of postconflict noncombat operations that they perceive as lying in the distant future. (From publisher's website.)
---
The Palgrave Handbook of National Parliaments and the European Union
edited by Julie Smith, Claudia Hefftler, Christine Neuhold, Olivier Rozenberg
 Published Palgrave Macmillan February 2015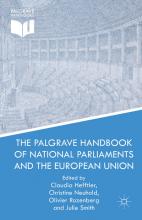 The Palgrave Handbook of National Parliaments and the European Union offers a comprehensive picture of the European activities of national parliaments in all the 28 member states of the EU. In the aftermath of the Lisbon Treaty, it questions whether national legislatures do matter in European governance. With contributions from both academics and practitioners, this volume integrates the latest constitutional and legal developments as well as the consequences of the economic crisis in every country in the EU. Special emphasis is also placed on the actual parliamentary practices relating to European affairs. In addition, the volume includes some cross-sectional entries on key issues such as parliamentary administration and inter-parliamentary cooperation. By covering a large number of aspects and cases, this collection provides a unique source for assessing the degree of actual parliamentary and democratic control of the European governance at the domestic level. (From publisher's website.)
---
Political Identity and Conflict in Central Angola, 1975-2002
by Justin Pearce
 Published Cambridge University Press June 2015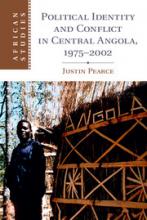 This book examines the internal politics of the war that divided Angola for more than a quarter-century after independence. In contrast to earlier studies, its emphasis is on Angolan people's relationship to the rival political forces that prevented the development of a united nation. Justin Pearce's argument is based on original interviews with farmers and town dwellers, soldiers and politicians in Central Angola.
He uses these to examine the ideologies about nation and state that elites deployed in pursuit of hegemony, and traces how people responded to these efforts at politicisation. The material presented here demonstrates the power of the ideas of state and nation in shaping perceptions of self-interest and determining political loyalty. Yet the book also shows how political allegiances could and did change in response to the experience of military force. In so doing, it brings the Angolan case to the centre of debates on conflict in post-colonial Africa.
---
Bodies of Violence: Theorising Embodied Subjects in International Relations
by Lauren B Wilcox
Published Oxford University Press January 2015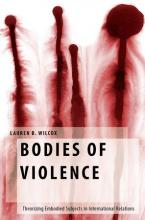 According to conventional international relations theory, states or groups make war and, in doing so, kill and injure people that other states are charged with protecting. While it sees the perpetrators of violence as rational actors, it views those who are either protected or killed by this violence as mere bodies: ahistorical humans who breathe, suffer and die but have no particular political agency. In its rationalist variants, IR theory only sees bodies as inert objects. Constructivist theory argues that subjects are formed through social relations, but leaves the bodies of subjects outside of politics, as "brute facts." According to Wilcox, such limited thinking about bodies and violence is not just wrong, but also limits the capacity of IR to theorize the meaning of political violence. By contrast to rationalist and constructivist theory, feminist theory sees subjectivity and the body as inextricably linked. This book argues that IR needs to rethink its approach to bodies as having particular political meaning in their own right. By engaging with feminist theories of embodiment and violence, Bodies of Violence provides a more nuanced treatment of the nexus of bodies, subjects and violence than currently exists in the field of international relations. (From publisher's website.)
---
The New Intergovernmentalism: States and Supranational Actors in the Post-Maastricht Era
edited by 
Christopher J. Bickerton
, 
Dermot Hodson
, and 
Uwe Puetter
Published Oxford University Press July 2015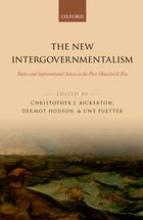 The twenty years since the signing of the Maastricht Treaty have been marked by an integration paradox: although the scope of European Union (EU) activity has increased at an unprecedented pace, this increase has largely taken place in the absence of significant new transfers of power to supranational institutions along traditional lines. Conventional theories of European integration struggle to explain this paradox because they equate integration with the empowerment of specific supranational institutions under the traditional Community method. New governance scholars, meanwhile, have not filled this intellectual void, preferring instead to focus on specific deviations from the Community method rather than theorizing about the evolving nature of the European project.
The New Intergovernmentalism challenges established assumptions about how member states behave, what supranational institutions want, and where the dividing line between high and low politics is located, and develops a new theoretical framework known as the new intergovernmentalism. (From publisher's website.)