Megaphone Bureaucracy: Speaking Truth to Power in the Age of the New Normal

Dennis Grube
Princeton University Press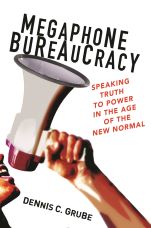 Once relegated to the anonymous back rooms of democratic debate, our bureaucratic leaders are increasingly having to govern under the scrutiny of a 24-hour news cycle, hyperpartisan political oversight, and a restless populace that is increasingly distrustful of the people who govern them. Megaphone Bureaucracy reveals how today's civil servants are finding a voice of their own as they join elected politicians on the public stage and jockey for advantage in the persuasion game of modern governance.
In this timely and incisive book, Dennis Grube draws on in-depth interviews and compelling case studies from the United States, the United Kingdom, Australia, Canada, and New Zealand to describe how senior bureaucrats are finding themselves drawn into political debates they could once avoid. Faced with a political climate where polarization and media spin are at an all-time high, these modern mandarins negotiate blame games and manage contradictory expectations in the glare of an unforgiving spotlight. Grube argues that in this fiercely divided public square a new style of bureaucratic leadership is emerging, one that marries the robust independence of Washington agency heads with the prudent political neutrality of Westminster civil servants. These "Washminster" leaders do not avoid the public gaze, nor do they overtly court political controversy. Rather, they use their increasingly public pulpits to exert their own brand of persuasive power.
Megaphone Bureaucracy shows how today's senior bureaucrats are making their voices heard by embracing a new style of communication that brings with it great danger but also great opportunity.
Hitler. Only the world was enough
Brendan Simms
Allen Lane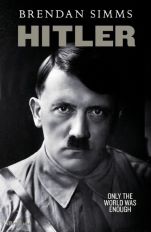 Adolf Hitler is one of the most studied men in history, and yet the most important things we think we know about him are wrong. As Brendan Simms's major new biography shows, Hitler's main preoccupation was not, as widely believed, the threat of Bolshevism, but that of international capitalism and Anglo-America. These two fears drove both his anti-semitism and his determination to secure the 'living space' necessary to survive in a world dominated by the British Empire and the United States.
Drawing on new sources, Brendan Simms traces the way in which Hitler's ideology emerged after the First World War. The United States and the British Empire were, in his view, models for Germany's own empire, similarly founded on appropriation of land, racism and violence. Hitler's aim was to create a similarly global future for Germany - a country seemingly doomed otherwise not just to irrelevance, but, through emigration and foreign influence, to extinction. His principal concern during the resulting cataclysm was not just what he saw as the clash between German and Jews, or German and Slav, but above all that between Germans and what he called the 'Anglo-Saxons'. In the end only dominance of the world would have been enough to achieve Hitler's objectives, and it ultimately required a coalition of virtually the entire world to defeat him.
Brendan Simms's new book is the first to explain Hitler's beliefs fully, demonstrating how, as ever, it is ideas that are the ultimate source of the most murderous behaviour.
Empires of the Weak: The Real Story of European Expansion and the Creation of the New World Order
Jason Sharman
Princeton University Press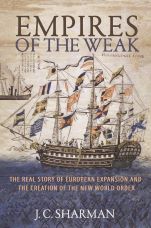 What accounts for the rise of the state, the creation of the first global system, and the dominance of the West? The conventional answer asserts that superior technology, tactics, and institutions forged by Darwinian military competition gave Europeans a decisive advantage in war over other civilizations from 1500 onward. In contrast, Empires of the Weak argues that Europeans actually had no general military superiority in the early modern era. J. C. Sharman shows instead that European expansion from the late fifteenth to the late eighteenth centuries is better explained by deference to strong Asian and African polities, disease in the Americas, and maritime supremacy earned by default because local land-oriented polities were largely indifferent to war and trade at sea.
Europeans were overawed by the mighty Eastern empires of the day, which pioneered key military innovations and were the greatest early modern conquerors. Against the view that the Europeans won for all time, Sharman contends that the imperialism of the late nineteenth and early twentieth centuries was a relatively transient and anomalous development in world politics that concluded with Western losses in various insurgencies. If the twenty-first century is to be dominated by non-Western powers like China, this represents a return to the norm for the modern era.
Bringing a revisionist perspective to the idea that Europe ruled the world due to military dominance, Empires of the Weak demonstrates that the rise of the West was an exception in the prevailing world order.
Transfer state: the search for a guaranteed income and the politics of redistribution in post-war Britain
Peter Sloman
Oxford university Press, October 2019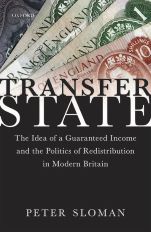 The idea of a guaranteed minimum income has been central to British social policy debates for more than a century. Since the First World War, a variety of market economists, radical activists, and social reformers have emphasized the possibility of tackling poverty through direct cash transfers between the state and its citizens. As manufacturing employment has declined and wage inequality has grown since the 1970s, cash benefits and tax credits have become an important source of income for millions of working-age households, including many low-paid workers with children.
The nature and purpose of these transfer payments, however, remain highly contested. Conservative and New Labour governments have used in-work benefits and conditionality requirements to 'activate' the unemployed and reinforce the incentives to take low-paid work - an approach which has reached its apogee in Universal Credit. By contrast, a growing number of campaigners have argued that the challenge of providing economic security in an age of automation would be better met by paying a Universal Basic Income to all citizens.
Transfer State provides the first detailed history of guaranteed income proposals in modern Britain, which brings together intellectual history and archival research to show how the pursuit of an integrated tax and benefit system has shaped UK public policy since 1918. The result is a major new analysis of the role of cash transfers in the British welfare state which sets Universal Credit in a historical perspective and examines the cultural and political barriers to a Universal Basic Income.
The Justice of Visual Art: Creative State-Building in Times of Political Transition
Eliza Garnsey
Cambridge University Press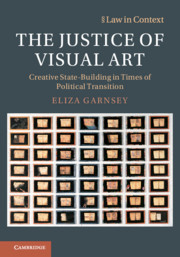 In the aftermath of mass conflict how is it possible to address violent and traumatic pasts, reconcile divided nations, and strengthen state institutions? This study explores the connections between transitional justice and visual art in order to answer that question. Garnsey argues that art can engage and shape ideas of justice. Art can be an inquiry into, and an alternative experience of, justice. Art embeds justice on different political levels - both local and global. Art becomes a radical form of political participation in times of transition. Arising out of extensive fieldwork at the Constitutional Court of South Africa and the South Africa Pavilion at the Venice Biennale, which included 130 interviews with key decision makers, the book provides the first substantive theoretical framework for understanding transitional justice and visual art, and develops novel conceptions of visual jurisprudence and cultural diplomacy as forms of transitional justice.
Is Globalisation over?
Jeremy Green
Polity Press
Looming trade wars and rising nationalism have stirred troubling memories of the 1930s. Will history repeat itself? Do we face the chaotic breakdown of the global economic system in the face of stagnation, protectionism and political tumult?
Jeremy Green argues that, although we face grave problems, globalization is not about to end. Setting today's challenges within a longer historical context, he demonstrates that the global economy is more interconnected than ever before and the costs of undoing it high enough to make a complete breakdown unlikely. Popular analogies between the 1930s and today are misleading. But the governing liberal ideology of globalisation is changing. It is mutating into a hard-edged nationalism that defends free markets while reasserting sovereignty and strengthening borders. This 'national liberalism' threatens a much more dangerous disintegration, fuelled by inequality and ecological crisis, unless we radically rethink the international status quo.
Politics and the Anthropocene
Duncan Kelly
Polity Press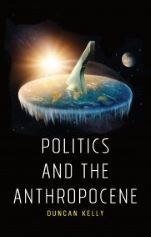 The Anthropocene has become central to understanding the intimate connections between human life and the natural environment, but it has fractured our sense of time and possibility. What implications does that fracturing have for how we should think about politics in these new times?
In this cutting-edge intervention, Duncan Kelly considers how this new geological era could shape our future by engaging with the recent past of our political thinking. If politics remains a short-term affair governed by electoral cycles, could an Anthropocenic sense of time, value and prosperity be built into it, altering long-established views about abundance, energy and growth? Is the Anthropocene so disruptive that it is no more than a harbinger of ecological doom, or can modern politics adapt by rethinking older debates about states, territories, and populations?
Kelly rejects both pessimistic fatalism about humanity's demise, and an optimistic fatalism that makes the Anthropocene into a problem too big for politics, best left to the market or technology to solve. His skillful defence of the potential for democratic politics to negotiate this challenge is an indispensable guide to the ideas that matter most to understanding this epochal transformation.
Amartya Sen
Lawrence Hamilton
Polity Press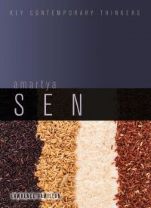 Amartya Sen is one of the world's best-known voices for the poor, the destitute and the downtrodden and an inspiration for policy makers and activists across the globe. He has also contributed almost without peer to the study of economics, philosophy and politics, transforming social choice theory, development economics, ethics, political philosophy and Indian political economy, to list but a few.
This book offers a much-needed introduction to Amartya Sen's extraordinary variety of ideas. Lawrence Hamilton provides an excellent, accessible guide to the full range of Sen's writings, contextualizing his ideas and summarizing the associated debates. In elegant prose, Hamilton reconstructs Sen's critiques of the major philosophies of his time, assesses his now famous concern for capabilities as an alternative for thinking about poverty, inequality, gender discrimination, development, democracy and justice, and unearths some overlooked gems. Throughout, these major theoretical and philosophical achievements are subjected to rigorous scrutiny.
Amartya Sen is a major work on one of the most influential economists and philosophers of the last couple of centuries. It will be invaluable to students and scholars across the humanities and social sciences and an excellent guide for policy makers, legislators and global activists.
Where Power Stops: The Making and Unmaking of Presidents and Prime Ministers
David Runciman
Profile Books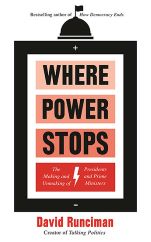 David Runciman grapples with how character defines and limits the holders of the highest offices in the UK and America.
Lyndon Baines Johnson, Margaret Thatcher, Bill Clinton, Tony Blair, Barack Obama, Gordon Brown, Theresa May, and Donald Trump: each had different motivations, methods, and paths, but they all sought the highest office. And yet when they reached their goal, they often found that the power they had imagined was illusory. Their sweeping visions of reform faltered. They faced bureaucratic obstructions, but often the biggest obstruction was their own character.
However, their personalities could help them as much as hurt them. Arguably the most successful of them, LBJ showed little indication that he supported what he is best known for - the Civil Rights Act - but his grit, resolve, and brute political skill saw him bend Congress to his will.
David Runciman tackles the limitations of high office and how the personal histories of those who achieved the very pinnacles of power helped to define their successes and failures in office. These portraits show what characters are most effective in these offices. Could this be a blueprint for good and effective leadership in an age lacking good leaders?